Text summarizers are one of the key tools in a writer's shed. So, which of them are best for accurate content summaries?
There are many article summarizers online that take a longer post and condense it down to a few sentences. But there are also many that do it poorly. The problem with summarizers is that many rely on keyword density to determine what the main idea of a post is. When you read a summarized post, it is often missing the most important piece of the puzzle: the logic and reasoning behind a post.
Did you know that 84% of businesses believe in AI to give them an advantage over their competition? In today's world, tools like AI summarizers can prove that factor very well, and for a few good reasons, such as:
They help you save time
They write outstanding summaries
Besides that, AI is known to boost productivity by 40% for businesses that know how to use it. Therefore, we'll look at the role of text summarizing in writing accurate summaries and three of the best tools you can use today. So, let's get started.
What Is A Text Summarizer?
A text summarizer is an AI-based program that knows how to save time and write summaries. These tools are made of many AI-related elements, but their primary making depends on two major AI aspects. Which are:
NLP – Natural Language Processing
Machine Learning
These two facets enable the text summarizer to write summaries as the user uploads their content. Once the content is uploaded, NLP understands it by converting/translating it for the computer's language.
Once done, machine learning implements AI algorithms, which know how to churn out the key points made in the content. Therefore, when the final product comes out, it's a thorough summary of the text provided by the user.
This summary can be achieved in a few main formats, such as:
Bullet points
Keywords
Topic
Therefore, it comes down to the user's preference, whether they want a brief summary, a mid-length summary, or a long summary of the actual text.
What Is An Accurate Summary of Content?
An accurate content summary means that it encapsulates the entire text core. In other words, it describes the sum of written content within a few words. That's why most summaries are either of the three lengths:
One liner – where a writer describes an article in one line
The 20% summary – featuring 20% of the actual word count of the primary content
The 33% summary, which features one-third of the actual content but describes the entirety briefly
These brief yet concise summaries are employed everywhere in the writing world. However, the common traits of an accurate summary include:
Shortens the text
Describes key ideas briefly and leaves the bulk for the actual text
Captures the entire article but focuses on the main body/middle
Therefore, an accurate summary briefly summarizes the bulk of the actual content without using up too many words.
Why Are Accurate Text Summaries Important?
Text summaries can be an essential element of many writing aspects. These summaries aren't only required in one aspect of writing but can be employed in various facets of life. So, to help you understand where they can be used, here are three scenarios:
They Can Be Used In Resumes
Text summaries are a great concept to help someone understand the contents of any text. Therefore, resumes aren't any different, and a well-made summary can embellish your CV significantly. This gives your potential employer a glimpse of your skills and an overall understanding of them.
That's why summaries can be important, as they can enable the reader to understand the entire resume better. How? By simply converting everything into a few words. Consequently, using one in your resume should be your priority.
They Can Be Used In Articles & Blogs
Blogs and articles benefit the most from such summaries. You can use this summary as the meta description for SEO purposes. There are many times when you can simply see the summary of an article on Google and judge it.
If the summary allures you and gives you a reason to click on it, then the writer did a good job of capturing the entire essence of content within that summary. Therefore, you can use summaries for SEO and post your article's link on social media.
They Can Be Used In Academic Content
Academic content is where summaries are used the most, and most academic writers know how to write one from the get-go. These summaries can embellish already well-written articles, essays, research papers, dissertations, and thesis.
However, using AI-based summarizers can help save them a lot of time. That's why many academic writers rely on AI-based summarizers to write summaries without wasting any time. This enables them to save a lot of time and portray the spirit of their text.
3 Best Text Summarizers To Write Accurate Summaries
Picking the best summarizer isn't easy, especially when Google offers you an overabundance tool. Therefore, falling for something that offers an exceeding but useless option is easy. In fact, you should look for something effective yet simple.
That's exactly what we did when we picked out the three best summarizers you can use today. Each tool has its cons, but its pros outweigh them quite easily. Here they are:
1. Text Summarizer by Editpad
EditPad's Text Summarizer is one of the best, if not the best. This remarkable summary tool allows you to create ideal summaries for all sorts of platforms. Whether an academic writer or professional, this tool has something in it for you.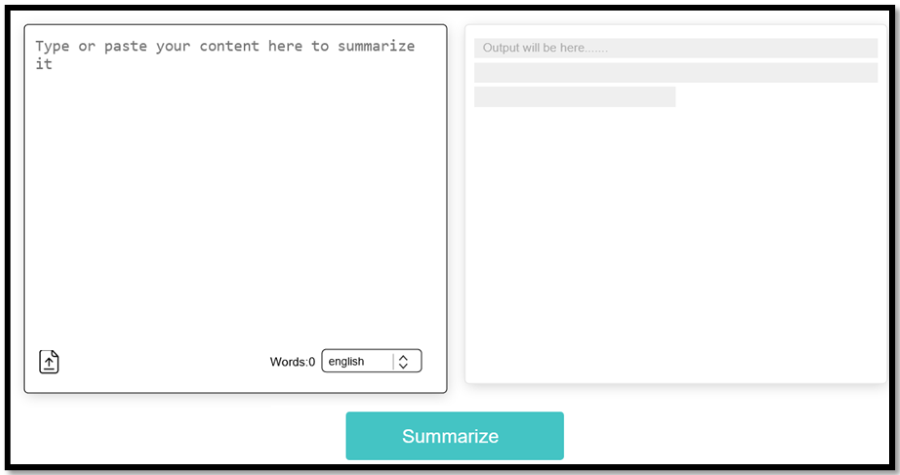 On the UI, it may not seem like there are many options. Besides uploading the content and selecting your language, this tool keeps it simple. Therefore, that's one of our priorities when picking these tools, and EditPad's summarizer falls full and well into that category.
Pros:
Remarkable summaries
Shortens texts quickly
Easy to use
Write summaries of over a thousand words
16 languages supported
Cons:
2. SMMRY.Com
SMMRY.com is a great tool for all sorts of summaries. And when a tool is named like that, you would have hoped it would be nothing less than stellar. However, the thing that stands out the most for us is its provision of sentence numbers.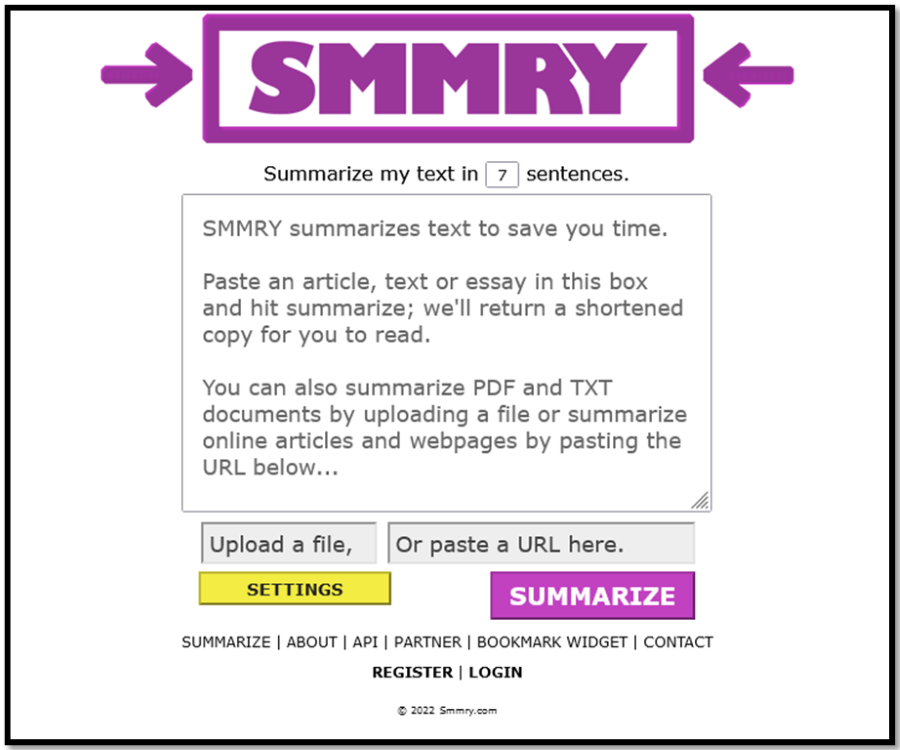 In other words, you can pick exactly the number of sentences, i.e., the length of your desired summary. This doesn't only save time but also helps you achieve a specific length.
Pros:
Easy to use
Sentence-based summarizing
Shortens quite comprehensively
Cons:
Old UI design
The website can be slow sometimes
3. Summarizing.Biz
Summarizing.Biz is our final pick, and this summarizer is nothing less than extraordinary. In fact, it's the only tool that allows you to write the primary title of your summary. Therefore, the summary focuses on the keywords in your title.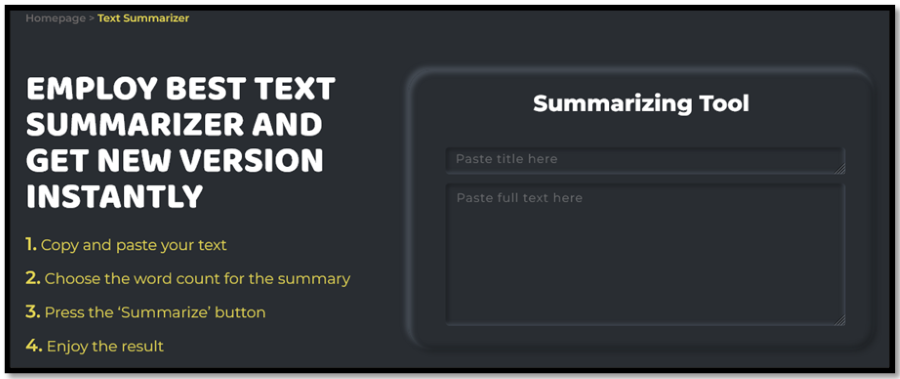 Its target audience can be anyone from common users to academic writers and SEO professionals. Therefore, it's ideal for all sorts of writers and summaries.
Pros:
The dark design makes it easy to work at night
Title-based summaries
Cons:
CONCLUSION
These are the best summarizing tools you can use today. They are outstanding in what they do and ideal for achieving all the aforementioned benefits of summarizing content. Their accuracy is unmatched, so you can pick any of the three to write summaries your text